Clinical studies with green tea
The Asian paradox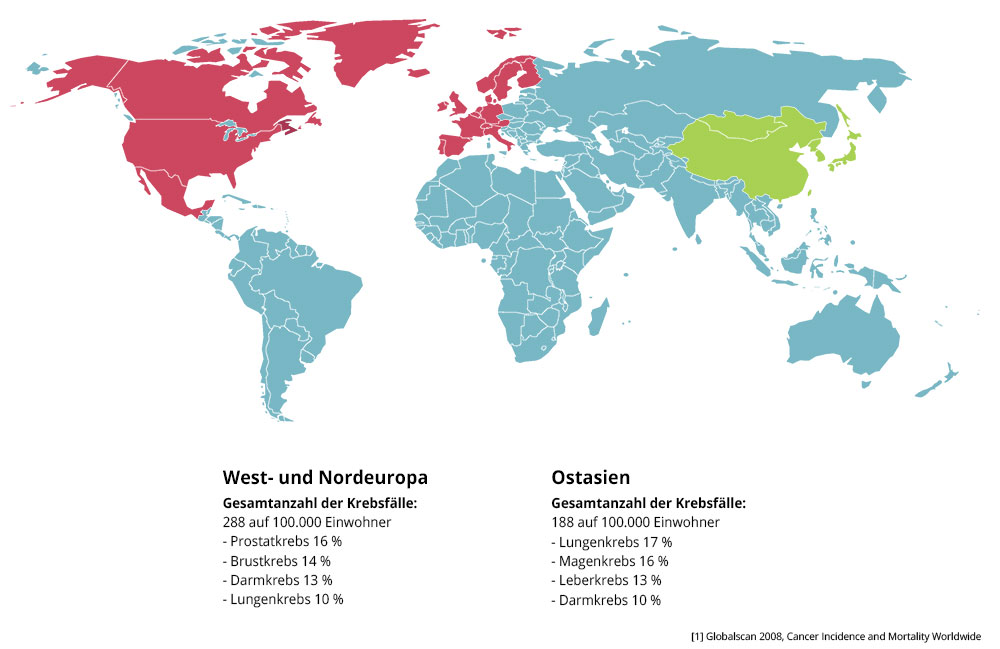 In Asia green tea is an inherent part of the culture. In Japan, according to prefectures, people drink up to 1,5 liter/day. The already implemented, over 11 years running study in japan called Ohsaki-Study with 40.530 adults in the age between 40 to 79 years showed, that green tea has positive cardiovascular effects what leads into a life-extending outcome. The dying-rate for male participants, which drunk more than five cups on a daily base, sunk to 12 percent, for women down to 23 percent.
The renowned University of Yale evaluated over 100 studies with green tea in 2006. The researchers wanted to find out, why in Asia with the highest consume of cigarettes worldwide the cardiovascular diseases and cancer is lower than in western countries. Prof. Dr. Bauer Sumpio, head of the study, evaluated more than 100 experimental and clinical studies about green tea.
His theory about the Asian paradox is mainly attributed to the phenol EGCG. On average Asians drink more than 1,2 liter per day. EGCG takes effect anti-oxidative and prevents LDL-Oxidation, which is the key factor for arteriosclerosis. Furthermore EGCG reduces the extent of blood platelet aggregation, regulates lipids and benefits the proliferation and migration of smooth muscle cells, which are important factors for the reduction of cardiovascular diseases.
Interestingly there are no comparable cancer-rates in other countries with a high consumption of tea. It's noticeable that especially regions in japan, where a big amount of green tea is produced (left), have a lower lung cancer disease-rate (right) than others. Most of all regions, which produce and consume plenty of green tea, show the lowest disease-rates. It´s really difficult to determine causality on the basis of many factors (City- vs. land population, different eating habits, etc.). However it is striking that the consumption of green tea plays a crucial role.


Furthermore there are studies, which prove the assimilation of cardiovascular diseases of immigrated Japanese in the USA. The change of consumption-habits seems to have a big impact on the health.
EGCG – the active compound in green tea
In the recent years scientists noticed, that EGCG has a significant positive influence on many incurable diseases like Alzheimer´s, Parkinson´s, Huntington´s chorea or ALS – without the harmful secondary effects of traditional medications or treatments. In several clinical experiments EGCG was able to prevent brain cells from mortifying and thus operated "neuroprotective".
A placebo-controlled clinical pilot study, carried out by the University Clinic Boston (USA), with 42 patients with coronary heart diseases showed, that the endothelium function was improving after an administration of 300mg EGCG. Vascular dilation was measured with ultrasound. The improved endothelium function of the vessels led to an improvement of the blood pressure readings.
Another EGCG-study with 87 patients from Wales in the year 2008 was able to prove a significant effect on the diastolic blood pressure.
A study of the University of Dundee from November 2014 about the application of EGCG in combination with Cysteamin (Thioethanol-amin) revealed that 90 % of the patients showed an improvement of inflammation-symptoms. The study showed a noticeable increased effectivity with Cysteamin in combination with EGCG. EGCG in combination with Cysteamin is going to improve the therapy of mucoviscidosis in the opinion of the scientists.

The case of Prof. Hunstein
Some individual cases caused sensations in the recent years. The highly esteemed hematologist from Heidelberg, Prof. Dr. Werner Hunstein developed 2003 a case of amyloidosis, a rare and always deadly disease, which causes proteins to thicken and deposit. Crucial cases of the disease cause the cardiac septum and the tongue to thicken, so that the patient becomes weak and vulnerable. Currently amyloidosis is treated with chemotherapy. This radical treatment extends the lifespan generally only about a few months.
This was the case for the seriously ill patient Prof. Dr. Hunstein. The chemotherapy in the year 2006, which took all his physical strength, could extend his expectancy only a few months. As he was told about the first results of a research group from the Max-Delbrück Center for molecular medicine regarding EGCG he decided to do a comprehensive self-experiment. He drank up to 2 liter of very intense green tea each day.
Just after he started his "Green-Tea-Therapy" he became witness of the unexpected. In a short time his symptoms of disease were completely reduced. This case created an international stir. Many newspapers reported about his case.
How was that possible?
The EGCG seemingly break all devastating proteins down, which were deposit in the whole body. It was even determined, that the thickness of the cardiac septum was measureable reduced. The consumption of green tea afforded Prof. Dr. Hunstein another 5 ½ years without afflictions. This case is all the more astounding, that till this day there is no therapy for amyloidosis. Amyloidosis is still an immedicable disease, which is based on the misfolding of proteins. After a diagnosis the expectation of life is commonly less than 6 months.
A detailed report of Prof. Hunstein can be found here: Website von Prof. Hunstein
Inhibition of protein-misfolding
EGCG within the green tea has a natural effect on the arrest of protein-misfolding. It operates on a cellular level and prevents the fatal concatenation process of the proteins. So the irreversible dying of brain cells can be prevented. EGCG can destroy already linked proteins and stop the process of concatenation. Toxic, misfolded proteins are turned into harmless aggregate, so-called "oligomere". An important aspect is the excellent tolerance of green tea. The beverage, that was tested over thousands of years on humans, shows even with high doses (>10 cups per day) no significant side effects.
Scientists achieved new insights the recent years, that prove, that amyloidosis, Down´s syndrome, Alzheimer´s, Parkinson´s and many other neurodegenerative diseases are based on the same fundamental pathological process: Proteins are chaining up in an accelerating way and destroying cells in the brain and organs. Scientists talk about a "deadly cascade", which evolves unnoticed over the years.
The dying of brain cells (Neurons) goes along with forgetfulness and the loss of personality with the Alzeimer´s disease, the tremor with Parkinson´s as well as learning disability with Down´s syndrome. The search for a neuroprotective substance was a long one. Through the detection of EGCG scientists were able to find a substance with the needed effects.
Great success of EGCG for the therapy of neurological deficits
A study of the university clinic Barcelona was possible to determine a cognitive improvement on young adults with Down´s syndrome, as they got treated with EGCG. Down´s syndrome is a disease based on genetic mechanisms, which comes hand in hand with a learning disability. Young people with Down´s syndrome learn very slowly. The massive and early appearance of the Alzheimer´s disease in this connection is a major problem.
As part of this study young patients were delivered EGCG in a form of a health supplement. It was immediately after the beginning of the therapy a positive effect noticeable, which was proven with many measurement series. A key factor is that the families of the patients could notice an explicit improvement in daily routines and the enhancement of livability. After the therapy stop within the study, an aggravation of the cognitive performance took place, which leads to the conclusion, that the intake of EGCG is needed on a daily base.
Green tea resp. EGCG is the first actual therapeutic approach, which has a measurable positive effect on neurological deficits. Crucial is the fact, that the neurological deficits on Down´s syndrome are caused by misfolded proteins. EGCG has a wide range of protein-based activity. EGCG can therefore be used on many other neurological or in general protein-misfolding-based diseases.
An overview about the diverse field of application of EGCG is listed here:
List of clinical studies according to the register of U.S.-Department of Health & Human Services (Dec. 14)
Object of investigation
Topic
Year
Contact
Country
Code
1
Relapsing-remitting Multiple Sclerosis
Neuro
2007
2013
Anja Mähler
Deutschland
NCT00525668
2
Chronical Progressive Multiple Sclerosis
Neuro
2008
–
Prof. Dr. Paul Friedemann
Deutschland
NCT00799890
3
Alzheimer's Disease
Neuro
2009
–
Friedemann Paul, MD
Germany
NCT00951834
4
Duchenne Muscular Dystrophy
Neuro
2010
–
Friedemann Paul, MD
Germany
NCT01183767
5
Multiple Sclerosis
Neuro
2014
–
Dr. Orhan Aktas
Germany
Geplant
6
Multiple Sclerosis Pilot Study: Safety Study
Neuro
2009
2013
Jesus F Lovera, MD
U.S.
NCT00836719
7
Multiple Sclerosis: Safety and Brain Protection
Neuro
2013
–
Jesus Lovera, MD
U.S.
NCT02011451
8
Multiple Sclerosis
Neuro
2013
–
Jesus F Lovera, MD
U.S.
NCT02011451
9
Cognitive Function; Mood
Neuro
2009
2012
Crystal Haskell
U.K.
NCT00981292
10
Cognition, stress, brain function and cardiovascular function
Neuro
2009
–
Con Stough
Australia
ACTRN12609000646246
11
Cognitive Performance in Fragile-X (including Down Syndrome)
Neuro
2013
–
De la Torre Rafael, PharmD
Spain
NCT01855971
12
Huntington Disease
Neuro
2011
2014
Josef Priller, MD
Germany
NCT01357681
13
Down Syndrome
Neuro
2011
2013
Rafael De la Torre Fornell, PhD
Spain
NCT01394796
14
Multiple System Atrophy
Neuro
2014
–
Johannes Levin, MD
Germany
DRKS00005610
15
Huntington´s Disease
Neuro
2011
–
Friedemann Paul, MD
Germany
2010-023941-31
16
Duchenne Muscular Dystrophy
Neuro
2010
–
Friedemann Paul, MD
Germany
2009-016482-28
17
Multiple Sclerosis
Neuro
2011
2014
Jesus Lovera MD
U.S.
NCT01451723
18
Multiple System Atrophy
Neuro
2013
–
Johannes Levin, MD
Germany
NCT02008721
19
Down syndrome
Neuro
2012
–
Rafael De la Torre Fornell, PhD
Spain
NCT01699711
20
Multiple Sclerosis, Relapsing-Remitting
Neuro
2011
2013
Friedemann Paul, MD
Germany
NCT01417312
21
Parkinson's Disease
Neuro
2007
2011
Piu Chan, MD, PhD
China
NCT00461942
22
Alzheimer´s disease (early stage)
Neuro
2009
–
Friedemann Paul, MD
Germany
2009-009656-20
23
Primary and secondary progressive forms of multiple sclerosis
Neuro
2008
–
Friedemann Paul, MD
Germany
2008-005213-22
24
Relapsing-remitting multiple sclerosis ICD classification: G35.1
Neuro
2007
2014
Friedemann Paul, MD
Germany
2006-006323-39
25
Cardiac amyloid Light-chain amyloidosis TAME-AL
Amyloidose
2013
–
Stefan Schönland, MD
Germany
NCT02015312
26
Primary Amyloidosis of Light Chain Type
Amyloidose
2012
–
Giovanni Palladini, Dr.
Italy
NCT01511263
27
Cardiac transthyretin amyloidosis
Amyloidose
–
2012
PD Dr med A. V. Kristen
Germany
–
28
Cardiac amyloid light-chain amyloidosis
Amyloidose
2012
–
Stefan Schönland
Germany
ISRCTN68399350
29
Advanced Non-Small Cell Lung Cancer
Krebs
2008
2013
Dr. Glenn Mills
U.S.
NCT00707252
30
Small Cell Lung Carcinoma
Krebs
2011
–
Xindong Sun, M.D.
China
NCT01317953
31
Lung Cancer Prevention
Krebs
2006
2013
Iman Hakim, MD, PhD, MPH
U.S.
NCT00363805
32
Lung Cancer; Precancerous Condition; Tobacco Use Disorder
Krebs
2008
2012
Stephen Lam, MD
U.S.
NCT00611650
33
Lung Cancer; Tobacco Use Disorder
Krebs
2007
2012
Stephen Lam, MD
U.S.
NCT00573885
34
Breast Cancer
Krebs
2008
2012
Gary Burton, M.D.
U.S.
NCT00676793
35
Estrogen Receptor-negative Breast Cancer; Progesterone Receptor-negative Breast Cancer; Stage I Breast Cancer; Stage II Breast Cancer; Stage IIIA Breast Cancer; Stage IIIB Breast Cancer
Krebs
2007
2014
Dawn Hershman
U.S.
NCT00516243
36
Cervical Cancer; Cervical Intraepithelial Neoplasia Grade 1
Krebs
2006
2014
Francisco Garcia
U.S.
NCT00303823
37
Vulval intraepithelial neoplasia (VIN)
Krebs
2014
–
University of Birmingham
U.K.
2013-003107-19
38
Prevention of Breast cancer
Krebs
2009
–
Dr Min Zhang
Australia
ACTRN12609000098235
39
Stage I Prostate Cancer; Stage IIA Prostate Cancer; Stage IIB Prostate Cancer
Krebs
2011
2012
Sanjay Gupta
U.S.
NCT01340599
40
Stage I Prostate Cancer; Stage IIA Prostate Cancer; Stage IIB Prostate Cancer
Krebs
2013
–
Robert Abouassaly, MD
U.S.
NCT01928485
41
Prostate Cancer
Krebs
2008
2012
Jerry W McLarty, Ph.D.
U.S.
NCT00676780
42
Prostatic intraepithelial neoplasia
Krebs
2007
–
SOFAR SPA
Italy
2007-000759-32
43
Adenocarcinoma of the Prostate; Stage I Prostate Cancer; Stage II Prostate Cancer
Krebs
2007
2013
Frederick Ahmann
U.S.
NCT00459407
44
Prostatic Hyperplasia
Krebs
2008
–
Nagi Kumar, PhD
U.S.
NCT00596011
45
Precancerous Condition; Prostate Cancer
Krebs
2005
–
Jackilen Shannon, PhD
U.S.
NCT00253643
46
Localized cancer of the prostate
Krebs
2007
–
University of Oslo, institute for basic medical sciences, department of nutrition
Norway
2006-006679-18
47
Patients with first prostate biopsy with diagnosis of ASAP (Atypical Small Acinar Proliferation) or multifocal (≥2 positive samples) HGPIN (High-Grade Prostatic Intraepithelial Neoplasia)
Krebs
2009
–
AZIENDA SANITARIA OSPEDALIERA
Italy
EUCTR2009-014548-13-IT
48
Bladder Cancer
Krebs
2004
2012
Arie Belldegrun, MD
U.S.
NCT00088946
49
Stage I Bladder Cancer; Stage II Bladder Cancer; Stage III Bladder Cancer
Krebs
2008
2013
Tracy Downs
U.S
NCT00666562
50
Cytotoxic Effects of Chemotherapeutic Agents in Human Urothelial Carcinoma Cells
Krebs
2013
–
Kuo-How Huang, M.D.,Ph.D.
Taiwan
NCT01993966
51
Unspecified Adult Solid Tumor, Protocol Specific
Krebs
2004
2010
H. H. Sherry Chow, PhD
U.S.
NCT00091325
52
Leukemia
Krebs
2005
2013
Jose F Leis, MD
U.S.
NCT00262743
53
Non-melanomatous Skin Cancer
Krebs
2000
2014
Frank L. Meyskens, MD
U.S.
NCT00005097
54
Unspecified Adult Solid Tumor, Protocol Specific
Krebs
2000
2014
H. H. Sherry Chow, PhD
U.S.
NCT00091325
55
Multiple Myeloma and Plasma Cell Neoplasm; Precancerous Condition
Krebs
2009
–
Jeffrey A. Zonder, MD
U.S.
NCT00942422
56
Plasma Cell Neoplasm Or Smoldering Multiple Myeloma
Krebs
2011
–
Jeffrey Zonder MD
U.S.
NCT01589887
57
Ductal Carcinoma in Situ
Krebs
2010
–
Nora Jaskowiak, MD
U.S.
NCT01060345
58
Leiomyoma
Krebs
2011
2013
Ayman Al-Hendy, MD, PhD
U.S.
NCT01311869
59
Mild to Moderately Active Ulcerative Colitis
Verdauung
2008
2012
Gerald W Dryden, MD
U.S.
NCT00718094
60
Advanced Colorectal Adenomas; Adenocarcinoma of the Colon; Stage I Colon Cancer; Stage II Colon Cancer; Stage III Colon Cancer
Verdauung
2012
–
Richard V. Benya
U.S.
NCT01606124
61
Barrett Esophagus
Verdauung
2005
2014
Charles Lightdale
U.S.
NCT00233935
62
Bowel health
Verdauung
2012
2013
Ms Jane Upton
Australia
ACTRN12613000097741
63
Diabetes Mellitus; Diabetic Nephropathy; Arterial Hypertension
Adipositas
2010
2012
Jose b Lopes de Faria, M.D.
Brazil
NCT01130727
64
Obesity; Type 2 Diabetes Mellitus
Adipositas
2009
2009
Ellen E Blaak, PhD, Prof
Netherlands
NCT00867555
65
Lipid metabolism, creation of health foods (ice cream)
Adipositas
2014
–
Hisashi Imbe
Japan
JPRN-UMIN000015009
66
Obesity
Adipositas
2005
2014
Conrad Earnest, PhD
U.S.
NCT00153790
67
Obese women and obese related hormone peptides
Adipositas
2014
–
Chung-Hua Hsu, PHD
Taiwan
NCT02147041
68
Albuminuria, Diabetic Nephropathy
Adipositas
2013
–
Cynthia Borges, MD
Brazil
NCT01923597
69
Lipid metabolism, and creation of health foods processed from tea
Adipositas
2013
–
Hisashi Imbe
Japan
JPRN-UMIN000011901
70
Obesity
Adipositas
2012
–
Margriet S Westerterp-Plantenga, Prof. Dr.
Netherlands
NCT01556321
71
Diabetes, Postprandial lipemia
Adipositas
2012
–
Stephen H Boutcher
Australia
ACTRN12612000188831
72
Vascular problems related to a high fat meal
Adipositas
2012
–
Yati Bouthcer
Australia
ACTRN12612000179831
73
Obesity
Adipositas
2007
2009
Arne Astrup, Professor
Denmark
NCT00611416
74
Obesity, Insulin resistance
Adipositas
2010
–
Steve Boutcher
Australia
ACTRN12610000965000
75
High visceral fat
Adipositas
2009
2009
Ying Zhang
China
ChiCTR-TRC-10000872
76
Hypertension; Insulin Resistance; Obesity; Type 2 Diabetes
Adipositas
2007
2014
Michael J Quon, MD, PhD
U.S.
NCT00434499
77
Cardiovascular disease, Overweight and obesity
Adipositas
2009
–
Yati Boutcher
Australia
ACTRN12609000509268
78
HIV-1
Virus
2011
–
Christina L Nance, PhD
U.S.
NCT01433289
79
HIV Infection: Safety and Toxicity
Virus
2011
–
Christy Nance PhD
U.S.
NCT01433289
80
Virus Reactivation in Remission Patients (NPC)
Virus
2012
2013
Jin Ch Lin, MD PHD
Taiwan
NCT01744587
81
Chronic Hepatitis C, oxidative stress
Virus
2009
2013
Roy L Hawke, PhD, PharmD
U.S.
NCT01018615
82
Epidermolysis Bullosa Dystrophica
Haut
2009
2014
Christine Chiaverini, PhD
France
NCT00951964
83
Acne Vulgaris
Haut
2010
2012
Dae Hun Suh, M.D., Ph.D.
Korea
NCT01687556
84
Lamellar Ichthyosis
Haut
2010
2010
Chiaverini Christine, Dr
France
NCT01222000
85
Genital Warts; Perianal Warts
Haut
2010
2010
Medigene AG
Germany
NCT01082302
86
Condylomata Acuminata
Haut
2007
–
Medigene AG
Germany
NCT00449982
87
Radio Dermatitis and Radiation Mucositis
Haut
2011
–
Jinming Yu, M.D.
China
NCT01481818
88
Dystrophinopathies (Duchenne/Becker muscular dystrophy)
Sonstige
2011
2014
Yoshiko Tsuchie
Japan
JPRN-UMIN000005945
89
Cardiovascular Diseases
Sonstige
2012
2013
Mario Lorenz, PhD
Germany
NCT01662232
90
Atherosclerosis
Sonstige
2008
2011
Amir Lerman, MD
U.S
NCT00865787
91
Cystic Fibrosis
Sonstige
2009
–
Eitan Kerem, MD
Israel
NCT00889434
92
Glaucoma and ocular hypertension
Sonstige
2006
2007
Policlinico Gemelli. Clinical Trial Center, universita cattolica
Italy
EUCTR2006-005943-27-IT
93
Osteoarthritis
Sonstige
2012
2013
Dr.gholamreza Hatam
Iran
IRCT201307188300N2
94
Chronic peridontitis
Sonstige
2014
–
ATHIRA P R
Indien
CTRI/2014/08/004925
95
Endometriosis
Sonstige
2011
–
P.G.A. Hompes
Netherlands
NTR2760